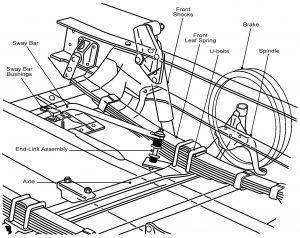 STEP: READ THESE INSTRUCTIONS CAREFULLY BEFORE INSTALLATION!
Jack up vehicle and place jack stands under the axle. Do not allow the suspension to hang as this will cause a binding affect and will be more difficult or impossible to install the new bar.
Remove the front inner U-bolt nuts. Install the gold angle brackets onto the inner U-bolt leg and snug the nut. Do not tighten yet!
Install the end-links through the bracket and sway bar, tighten them until the end-link bushings just deform slightly. Do not over tighten. (Make sure bend in sway bar faces down).
At this point the bar should be mounted to the axle at the end-links. Now center the bar on the front crossmember install the "D" bushing brackets and mark crossmember. Drill your holes using a 3/8″
drill bit.
After installation is complete, check the suspension travel and suspension parts for any interference with the sway-bar and with other parts. ON FRONT SWAY-BARS, ALSO TURN WHEELS FROM LOCK TO LOCK TO CHECK TIRE CLEARANCE.
Road test your truck to familiarize yourself with its new handling. As we cannot supervise your installation, or your driving we cannot be responsible for more than the cost of the kit. REMEMBER! A RARE SWAY-BAR SHOULD NEVER BE INSTALLED UNLESS AN ADEQUATE FRONT SWAY BAR IS ON THE VEHCILE.
HARDWARE INCLUDED:
2    RH    046    BRACKETS
2    RH    511    BUSHINGS
8    RH    104    WASHERS
2    RS    035    ANGLE BRACKETS
2    RH    015    END LINKS
2    RH    031    PLATES
4    RH    214    BOLTS
2    RH    304    LOCK NUTS