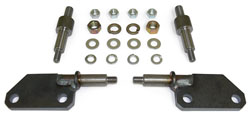 Part #FSM5559
Steps: Read these instructions carefully!
Make sure this kit fits your application prior to painting or plating. Parts that have been plated, painted or modified may not be returned.
Lower shock mounts attached to the rear of the axle and are held by the rear U-bolt.
The longer stud mounts into the original forward gear box mounting hole. (See diagram below)
The shorter stud mounts on the passenger side in an existing   hole. That existing hole is an equal distance from the axle center line, as the original gear box mounting hole.
Enjoy your clean and easy shock mount kit!