The oldest surviving Ford car will be auctioned on October 11, 2012, at RM auctions, with an estimated bid set at $300,000-$500,000. This meticulously restored 1903 Ford 'Model A' Rear Entry Tonneau, is referred to as Chassis No. 30–which is one of the first three cars ever produced and sold by the Ford Motor Company (the other two being the Model A No. 9 and the Model A No. 11). The whereabouts of Model A No. 9 and No. 11 remain a mystery, making Model A No. 30 the oldest known product from Ford. The last time it was up on the auction block, the Model A No. 30 was sold for $693,000.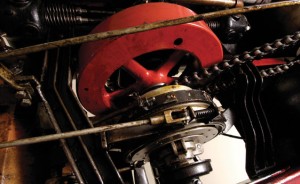 Model A Chassis No. 30 is a 72-inch wheelbase four-seater, that is powered by a 8 horsepower, horizontally opposed, 100-cu.-in. flat two cylinder engine. That's eight horses, which is probably less horsepower than your lawnmower. The Ford also retains all of its original early features, including the extremely rare Kingston carburetor, and the original coil box stamped with the number 30.
The original owner of Model A No. 30 was Herbert L. McNary, a butter maker from Britt, Iowa, who bought the car new for $850. In the 1950s, another Iowan, Harry E. Burd, purchased the automobile from the McNary family for $400. It was restored and sold to a Swiss Ford dealer in 1961, and was displayed at Ford's European headquarters in Cologne and in other locations. It remained in Europe until 2001, when it was purchased by the previous owner, and was shipped back to the United States. In 2007, Texas lawyer, John O'Quinn purchased the car for nearly $693,000. The O'Quinn estate put the Ford up for auction in 2010, but it was declared a no-sale when the bidding topped out at $325,000, which was well short of the auction reserve set at $600,000-$800,000.