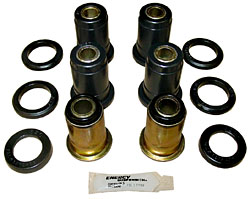 These rear control arm bushings are a must when rebuilding your classic. By replacing these control arm bushings, you will give the vehicle better handling and a positive "new vehicle" feel. Our bushings offer less deflection than factory rubber units and are impervious to chemicals.

Available for single and dual upper control arms. Please specify.

Note: Part #3-3148G and 3-3149G does not include outer metal shells.