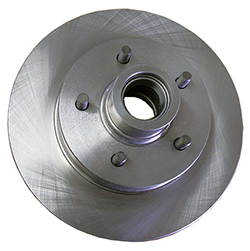 Another great item found on our conversion kits. These disc brake rotors fit 1971-87 2wd heavy 1/2 ton Chevy and GMC truck spindles and are the popular 5 x 5" bolt pattern. Can be used on factory disc brakes spindles and the popular aftermarket 2.5" drop spindles. Sold individually.
Specs:
Aimco number 5516
Wheel stud size is 1/2"- 20
Heavy duty type, 1.250" thick
12.00" diameter
5 x 5" bolt pattern
Uses A-3 outer and A-5 inner bearing (sold separately)
Bearings sold separately see suggested items.
Fits: 1971 1972 1973 1974 1975 1976 1977 1978 1979 1980 1981 1982 1983 1984 1985 1986 1987 Chevy C10 and GMC C15 truck