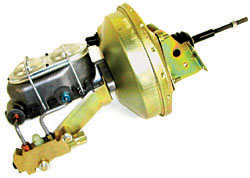 Our booster kits mount in the factory location.

These components are a must when upgrading to disc brakes and come completely assembled, ready to install.

Kit includes:
• Power booster
• Mounting brackets
• Master cylinder
• Prop valve (disc applications only)
• Prop valve bracket
• and prop valve lines
• Zinc plated

Specify type of brakes when ordering, drum brakes, 2 wheel disc or 4 wheel disc.

Available in 7", 8", 9" or 11" configurations. 7" & 8" sizes available in dual diaphragm configuration. Add $20. 9" & 11" only available in single diaphragm.

Note: Depending on application, boosters appearance may vary from picture shown.