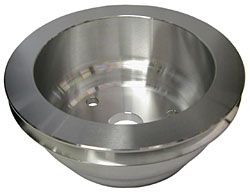 1958-64 Chevy Impala Tubular Lower Control Arms
Tubular lower control arms available for 1958-64 Chevy Impala, Belair and Biscayne. Our tubular lower control arms are stronger than the stock arms and provide sway bar mounts not found on some control arms.
Improves handling and performance.
Market price:
$399.99
save 23%
1964-72 GM A F X Body Disc Brake Conversion Kit, 13" Rotors, Fits Chevy Chevelle
Our 13" big brake kit utilizes C4 Corvette rotors and 38mm dual piston calipers. Improves stopping performance & driver feedback.
Fits: 64-72 GM A-body, Chevelle, El Camino, Monte Carlo, Buick Skylark, Pontiac GTO, Le mans, Oldsmobile 442, Cutlass.
Market price:
$899.99
save 17%