Performance Online Parts Catalog 2017
PERFORMANCE ONLINE'S "BOOK OF TRICKS" 2017 parts catalog is a must when in the market for Classic car and truck Brakes, Suspension Parts, Steering Conversions, Chassis components and Accessories items, which includes Headers, engine pulleys, billet hood and trunk hinge kits and much, much more.
NOW IN STOCK!
Combination and Proportioning Valve Bleed Tool
Combination and Proportioning Valve bleed tool. Use our Proportion Valve Bleeding Tool when bleeding your brakes to lock the prop valve in place and keep the valve from tripping the shut off mechanism.
Ships US Post office for $7.00
Shock Absorber Stud Mount
Great as a replacement to your worn out original shock mount stud or can be used as a custom set-up.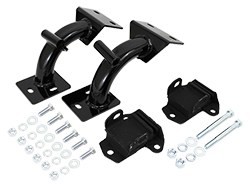 1960-72 Chevy Truck Lowering Block kit, Rear, Aluminum
Obtain up to 2" drop on your coil spring truck with our proven extruded aluminum lowering block kit. Available for 1960-72 Chevy C10 and C20 trucks.
Includes zinc plated grade 8 ubolts.
Market price:
$69.00
save 23%
1960-66 Chevy Truck Power Steering Conversion Kit
Deluxe power steering conversion kit available for 1960-66 Chevy C10, GMC C15 and C20 trucks. This kit is what you need to upgrade to power steering.
Available for small block, big block and 235 6-cylinder.