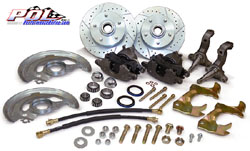 1967-69 Chevy Camaro Disc Brake Conversion Kit, OEM Spindles
Classic disc brake conversion kit available for 1967-69 Chevy Camaro and Pontiac Firebird. Increase your stopping performance with our economically priced kit.
FREE zinc plating with rotor upgrade. Kit is assembled and prefitted at no extra charge.
Market price:
$399.99
save 13%
1967-72 Chevy Chevelle Front and Rear Power Disc Brake Conversion
Convert your classic to 4 wheel power disc brakes. Available for 67-72 Chevy Chevelle, Malibu, El Camino, Monte Carlo, Buick Skylark, Pontiac GTO, Le Mans, Oldsmobile Cutlass, Hurst Olds, 442 and GM A-body.
FREE zinc plating included with rotor upgrade. Assembled for quality assurance.
Market price:
$1189.99
save 16%