WBK5-4759
Covers both WBK5-4759 AND WBK5-475912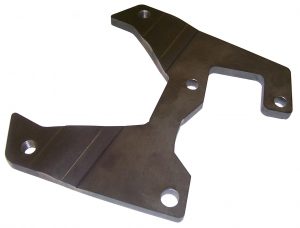 WBK5-475912 (shown)
BRACKET MAY NEED TO BE CLEARANCED FOR PROPER FIT!
STEPS: Read these instructions carefully!
Jack front of truck and support the axle with jack stands.

Remove the wheels, brake drums, hub assembly and backing plate assembly.

Clean and prep the spindle.
4A) WBK5-4759 – Mount the caliper bracket onto the outside of the spindle using the supplied bolts and the six smaller spacers supplied in the kit.
(Note: the brackets should face the rear of the truck and the spacers go between the bracket and spindle, 11" kit only).
4B) WBK5-475912 – Mount caliper brackets onto the outside of spindle using supplied bolts as shown in figure B & C. (Note: no spacers are required on this kit) make sure bracket offset is toward outside of vehicle.
Slide the bearing adapter over the spindle shaft and make sure it is touching the old seal surface. (Note: the bearing adapter has a large diameter and a small diameter, the small diameter faces outward). these adapters may fit snug, although most seem to slide right on.
Remove the inner race from the rotors and press in the new race supplied in the kit.
Pack the bearings with good quality disc brake bearing grease and install the seals.
8A) WBK5-4759 – Install the rotors, outer bearing, and retaining washer. Next install the large spacer supplied with the kit and the spindle nut. Torque the assembly to 12ft/lbs while spinning the rotor, then back the nut off to nearest slot and install cotter pin.
8B) WBK5-475912 – Install the rotors, outer bearing, outer bearing adapter, retaining washer and nut. See figure B torque assembly to 12ft/lbs   while spinning rotor, then back of nut to nearest slot and install cotter pin.
Install grease caps, calipers and brake hoses. Make sure the bleeder screws are on the top of the caliper.
You are done at the wheel, Enjoy!
SPECS:
WBK5-4759 – THIS KIT USES 1970-78 CAMARO ROTORS AND CALIPERS. (OR GM EQUIVALENT) INNER BEARING AND RACE ARE: A-13 OR SET 13.
WBK5-475912 – THIS KIT USES 12" CAMARO ROTORS AND 70-78 CAMARO CALIPERS (OR GM EQUIVALENT)