Part #RWBK-F9
Steps:  Read these instructions carefully!
Important:  The original wheels may not fit.  Please make sure to check wheels before assembly, this way you wont be disappointed if they do not fit.
Jack rear of vehicle and support the axle with jack stands.
Remove the wheels, brake drums, axles and backing plate assembly.
Clean and prep the mounting flange area of rear end.
Reinstall the axles with the new rotors attached. (Secure the rotor to the axle by using two of the lug nuts you took off).
Mount the primary caliper bracket onto the outside of the axle flange using the supplied bolts. This bracket retains the round primary axle bearing and the secondary bracket attaches to it. (Note: the brackets should face the rear of the vehicle and the spacers on the    bracket should be mounted to the inside).  See diagram.
NOTE: YOU MAY NEED TO FILE THE SPACERS ON THE CALIPER BRACKET TO GET PROPER CLEARANCE. THIS IS NORMAL DUE TO AXLE FLANGE VARIATIONS. NOTE2: IN SOME CASES THE AXLE FLANGE MAY NEED TO BE TURNED DOWN SO ROTOR WILL FIT OVER IT. THIS CAN BE DONE WITH A HAND GRINDER, BUT IT IS RECOMMENDED YOU TAKE THE AXLES TO A MACHINE SHOP.
Once proper clearance is obtained, be sure to torque all bolts. Mounting bolts need to be torqued to 50ft/lbs dry or 35ft/lbs lubricated.
Install brake hose. Double check all parts for interference and bolts for tightness. Proceed  to bleed brake system.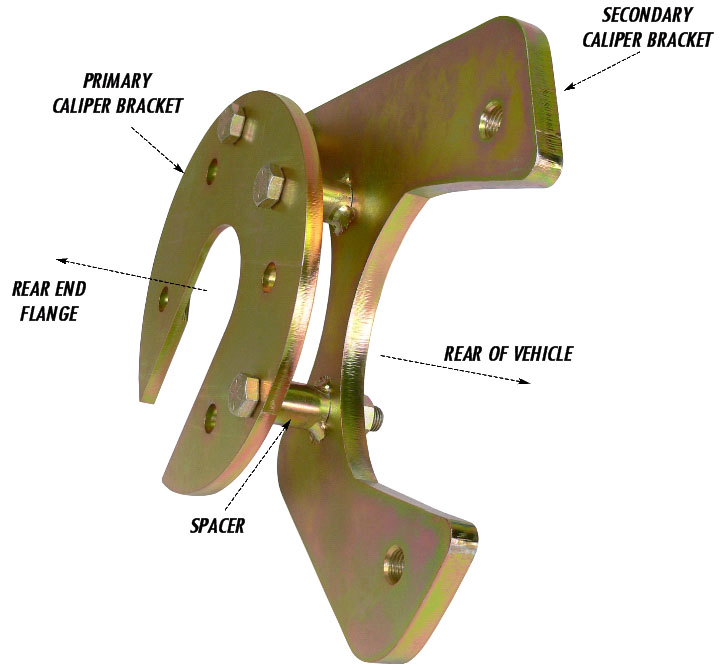 Note: All brackets mount toward the rear of the vehicle.