From DRIVE! Online Gift & New Product Guide. See the entire article here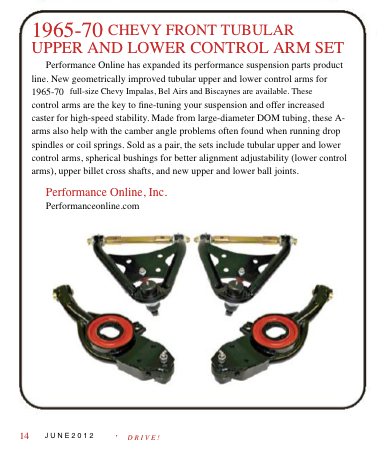 1965-70 Chevy Front Tubular Upper and Lower Control Arm Set
Performance Online has expanded its performance suspension parts product
line. New geometrically improved tubular upper and lower control arms for
1965-70
full-size Chevy Impalas, Bel Airs and Biscaynes are available. These
control arms are the key to fine-tuning your suspension and offer increased
caster for high-speed stability. Made from large-diameter DOM tubing, these A-
arms also help with the camber angle problems often found when running drop
spindles or coil springs. Sold as a pair, the sets include tubular upper and lower
control arms, spherical bushings for better alignment adjustability (lower control
arms), upper billet cross shafts, and new upper and lower ball joints.