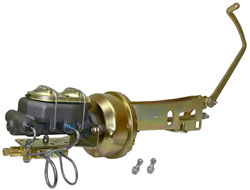 NOTE: Read these instructions carefully! Important:
This kit is assembled for shipping purposes only! Be
sure to check all nuts and bolts for adequate torque
prior to use. Don't forget!
MOUNTING INSTRUCTIONS
Remove the original master cylinder, bracket and brake pedal.
Clean the cross member where the bracket will bolt to it.
Mount the bracket onto the cross member where the original bracket was located. Use the supplied bolts to mount the bracket keeping the nuts on the top side. Mount the booster to the pedal bracket.
Mount the pedal arm to the bracket with the arm coming up through the floor in the original location.
Mount the swivel joint and extension rod from the pedal attachment to the threaded end of the booster. Be sure to place the 1/2" steel bushing between the pedal attachment and the swivel joint so the rod lines up directly with the center of the booster. Adjust the rod so there is 1/2" free play at the pedal pad. (no pre-load on the booster).
A new access door will have to be cut in the floor directly above the new master for cylinder service.
Bench bleed the master cylinder to remove all the air.
Mount the master cylinder to the booster.
Supply the booster with 18" of vacuum from either the back of the carburetor or the intake manifold.
Plumb the system as below and then bleed the entire system before driving. Always test drive in a safe area before going on the street.
If you are our v13350 combination valve, plumb as above.
Parts List: 
1 ea 9" Power Brake Booster
1 ea Booster boot
1 ea Push Rod
1 ea 1" bore master cylinder
1 ea (disc only) Proportioning valve
1 ea (disc only) Prop valve mounting bracket
2 ea (disc only) Prop valve lines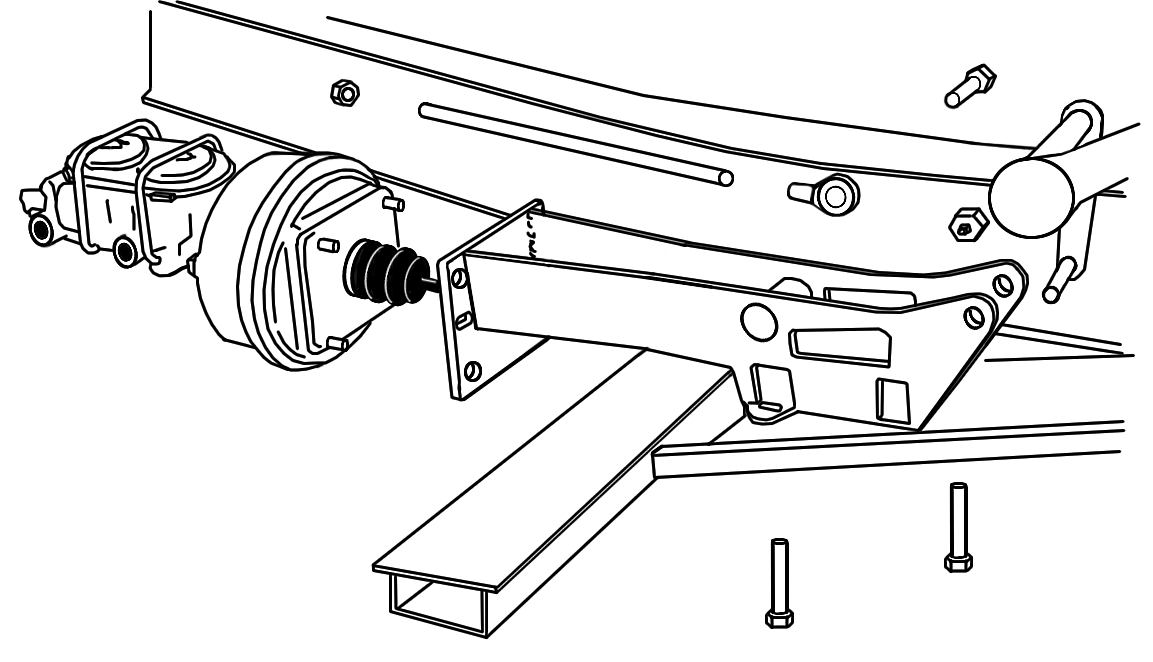 What to do if you can't get a brake pedal
Did you bench bleed the master?
Are the front caliper bleeder screws facing up?
Is there a 10 lb. residual valve to the rear drum brakes?
Check the master cylinder by plugging both outlets. If the master is good the pedal will be firm. If the master is bad the pedal will go to the floor.
If you have rear calipers the caliper pistons must be adjusted outward so the pads are close to the rotor.