About POL
Thanks for visiting our "about us" page and your interest in our products. We have been in business building and restoring custom and classic cars for over 30 years. We sell high performance quality products. We love old GM vehicles, and helping our customers restore their classics, this is our specialty. We can supply brake system components for your hot rod from the basic brackets and hardware up to and including complete front and rear brake systems, from high dollar US made components to more economic and affordable kits.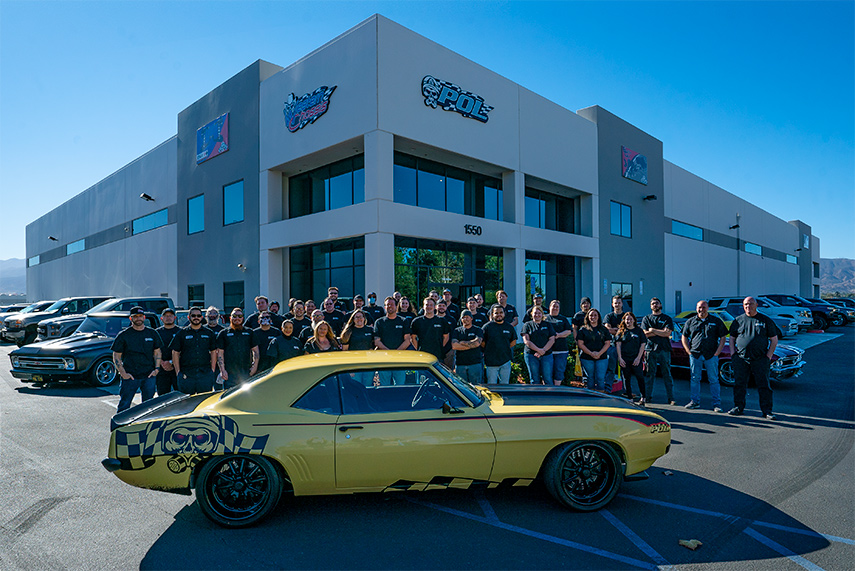 Performance Online has a very dedicated skilled team, with a well trained staff at the front counter, and we are always ready to assist you over the phone toll free 1-800-638-1703. We have a fully equipped workshop located at 1550 Melissa Court, Corona, CA 92879.
We always strive to get what you are looking for in a very short amount of time. We stock most items we sell. Our fill rate is 98% and if we don't have an item in stock, we can usually fill the order within 5 business days.
We also carry other parts that can make the installation easy! POL has owned and built classic custom cars, early- and late- model trucks, and has fabricated street rods of all kinds. Our expertise in custom suspension and brake parts has been developed through years of experience drag racing, manufacturing and plenty of hard work with computer-aided design software. We know how to design innovative brake and suspension components for maximum strength and durability, while keeping them affordable. Our many years of experience is what makes Performance Online components different than the rest, and our reputation among the nations suspension specialists is without question.
What we supply...
We supply restoration parts for the following vehicles:
• 1953-62 Chevy Corvette
• 1949-51 Ford Car
• 1949-53 Mercs
• 1963-74 Mopar A, B, E Body
• 1964-73 Mustang
• 1949-54 Chevy Car
• 1955-57 Belair/210/150
• 1958-70 Impala/Belair/Biscayne
• 1964-72 Chevelle/GTO/Skylark/442/Cutlass
• 1973-77 Chevelle/Malibu/El Camino
• 1978-88 Malibu/El Camino/Monte Carlo
• 1967-92 Camaro/Firebird
• 1962-74 Chevy II/Nova
• 1975-79 Chevy Nova
• 1947-59 Chevy/GMC/3100
• 1960-87 Chevy/GMC/C10/C20
• 1948-64 Ford F-1/F-100 Truck.
Everything from suspension kits to power steering conversions, 13" disc brake conversions, front disc brake kits complete, stock or drop spindle wheel kit, rear disc brakes, ebc brakes, air brakes, power brake boosters, brake hoses, brake shoes, cross-drilled rotors, ceramic disc brake pads, wheel cylinder, vacuum pump, brake rebuild kits, engine mounts, trans mounts, motor mounts, power steering kits, gear boxes, rag joints, tilt steering column, aluminum fuel tank, c-notch kits, drag race setups, traction enhancers, rear end conversion kits, lowering kits, rear subframe, crossmembers, super sport rear springs, mono & multi leaf springs, tubular upper & lower control arms, IFS kits (Mustang II kits), front end rebuild kits, idler arms, tie rod ends, center link bushings, air ride suspension, suspension lift, air bag suspension, adjustable shocks, sway bars & kits, drop spindles, drop coil springs.
We can combine shipping to save you even more money.
For a catalog, please call or email us your information.
Attention Customers; Some items listed on this store may take up to 4 weeks to receive. Please Contact us for shipping details. 714-278-0098
Goals:
• Offer the best possible products at a fair price.
• Continued aggressive research and development so you the customer have the latest in technology.
• Have a knowledgable staff to help with any technical situations such as help with installation.
• Strive on being as innovative as possible.
• Offer you the option of American made products.