Performance Online (POL)

Performance Online - POL Parts Catalog 2021-22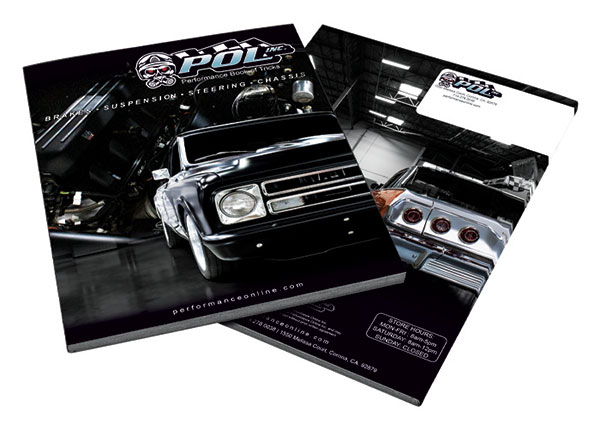 Details
If you are a serious hot rodder or just looking to improve the looks and performance of your daily driver, Performance Online- POL has the right parts for you. Our catalog is packed with the best in brakes, disc brakes, big brake kits, suspension parts, chassis components and accessories. Inside our catalog you will find everything from suspension kits to power steering conversions and 13" disc brake conversions. Be sure to also check out our technical sections. There you will find technical definitions and many diagrams and specifications.
Catalog contains an expanded product line including:

SOLD OUT
1949-51 Ford Car
1963-67 Ford Fairlane
1960-66 Ford Falcon
1964-73 Ford Mustang
1961-68 Cadillac
1960-66 Buick Riviera
1949-53 Mercs
1963-74 Mopar A, B, E Body
1953-82 Chevy Corvette
1949-54 Chevy Car
1955-57 Pontiac Car
1955-70 Chevy Belair, Impala, Biscayne, Wagon and Nomad
1964-77 Chevelle, Malibu, El Camino, GTO, Skylark, 442, Cutlass
1978-88 Malibu, El Camino, Monte Carlo
1967-92 Camaro, Firebird
1962-79 Chevy Nova
1947-87 Chevy, GMC Truck
1948-64 Ford F-1, F-100 Truck
• Out of the country shipping costs are $24.
• Limit one catalog per person.
CA Prop 65 Warning - cancer and reproductive harm www.p65warnings.ca.gov