These tanks are made to fit between the frame rails, in the rear of the truck, behind the rear axle. Most tanks will fit in with no frame modifications. Some trucks have a small crossmember that was in place to balance the spare tire. This has to be removed. Installing a tank is easier with the bed off.
1.)  On 48-56' Fords and 55-59' Chevy's, using the 21 gallon 'A' tank, the rear crossmember must be moved back. Knock out the rivets,  remove the crossmember, flip it over and put it into the very back of the frame.

 
2.)  The tank pushes up from the bottom position. Put the tank in place and use the mounting straps to mark the holes in the tank and frame. Drill holes in the tank and frame to 1/2" diameter. Put the tank back into place and bolt it in using the strap kit.
3.)  Some frame rails bend up away from the tank flanges. In this case, use spacers to fit in the gap. DO NOT BEND THE TANK FLANGES TO FIT! On 47-54' Chevy's, a piece of wood works nice as a spacer on the back flanges. Sand it to fit.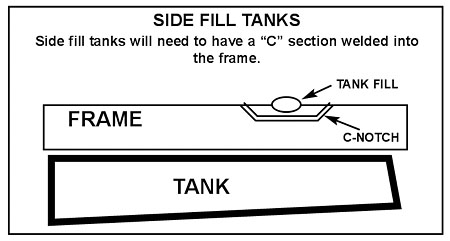 4.)  Vent fittings, hose, and a filter are needed for the vent. The filter helps keep dirt and water out of the fuel. Sold separately.