Part #RSPK5557
PLEASE READ THESE INSTRUCTIONS THOROUGHLY BEFORE BEGINNING INSTALLATION!
Remove the leaf springs and shock absorbers from the car.
Remove all of the leaf spring attaching brackets and hardware from the chassis.
Mark the area that needs to be cut out of the bottom of the frame for the front spring mount pocket (part #1) as shown on fig. B. This cut out should be approximately 3" wide by 18" long, with the 1 1/4" hole in the side of the frame centered with one of the holes in the spring mounting pocket.
NOTE: When working on the passenger side of the frame, the spare tire well may need to be modified or removed.
Tack weld the shackle hanger (part #10) centered and parallel with the top of the frame and 57" from the 1 1/4" hole as shown in fig. B.
Use the frame notch plate (part #8) as a template by positioning it on the side of the frame and mark the area that needs to be cut out for the shackle frame notch.
Cut out the areas marked on the frame, and grind the edges clean if necessary.
Tack weld the shackle notch plates and spring mounting pocket to the frame, Recheck all measurements. Weld all the pieces in place.
Install the leaf springs (part #2) into the spring mounting pockets. The front of the spring has the pressed in bushings.
Assemble the spring bushings (part #6) and the 5/8" sleeve (part #7) into the rear spring eye and shackle mount.
Install one end of the shackle (part #9) to the frame mount and the other end to the spring. Do not use the middle hole.
Weld spring seats (part #4) to the bottom side of the axle housing at 38" apart, centered between the backing plates, and with the pinion shaft at an angle of 5 degrees. Sloping up towards the front.
Position the axle over the springs. Make certain that the stud on the spring fits inside the spring seat.
Assemble the U-bolts over the rear axle and through the 5 hole plates (part #3). The 5 hole plates mount under the axle with the shock absorber mounting holes facing towards the inside front of the car.
Mount the shock absorbers.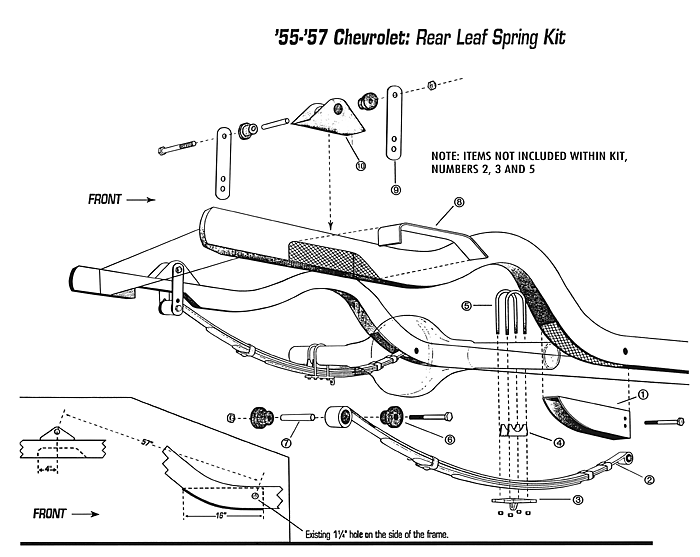 SUPPLEMENT TO REAR RELOCATION KIT
IMPORTANT! The supplied washers are to be used between rear spring, shackle bushings and shackle plates.