FiTech EFI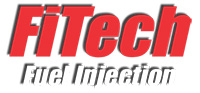 FiTech 50004 - Force Fuel System
Details
The all new FiTech Force Fuel System makes the upgrade to fuel injection even easier! The Force Fuel simply connects to a stock mechanical or electric fuel pump then supplies the EFI system with high pressure through the use of an internal 340-LPH pump. This means you don't need to run a new feed line from the tank. Mounts in the engine compartment. System submerges fuel pump in 2 liters of fuel keeping the pump cool and quiet.
Kit includes:
Main assembly w/340 LPH fuel pump
Internal regulator
5' High Pressure Fuel Hose
AN Fittings
Return Line Fitting Bung
pressure gauge
Serviceable 10 Micron fuel filter.
Heavy Duty Wire Terminals
Notes:
Not legal for use on pollution controlled vehicles or in states adopting California emission regulations. This system is designed to be installed on vehicles that do not require emission controls.
CA Prop 65 Warning - cancer and reproductive harm www.p65warnings.ca.gov