FiTech EFI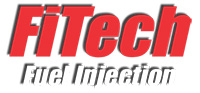 FiTech Go EFI 600HP Fuel Injection System
Details
The Go EFI 4 Self Tuning Fuel Injection is rated at 600 HP but is suitable for engines from 200hp thru 650hp. This system is perfect for your everyday Driver right up to your weekend Street Machine or Bracket Racer. It features the FASTEST most accurate Self Learning available, Timing control, Wet flow Annular discharge and tons of additional features.
It fits any 4-bbl intake manifold and is the most self-contained and full-featured unit of this type. The ECU (computer) is mounted on the throttle body, which greatly simplifies installation. No hole in your firewall and no unsightly harness draped across your engine. This is also the only computer mounted throttle body that offers spark control without the need for an external spark box or special distributor. It also has a built-in fuel pressure regulator.
Note: E85 Fuel compatible simply by decreasing HP settings during tuning set up.
Note: Requires 58 pounds of continous fuel pressure with a return line to the fuel tank.
Note: Requires the use of Electronic Ignition. Will not work with a points distibutor.

Kit includes:
(1) Die-cast throttle body
(1) Hand-held controller
(1) Hand-held controller cable
(1) Windshield mount
(1) 4+2-Pin Connector
(1) O2 sensor
(1) O2 bung kit
(1) CTS sensor
(1) CTS adapter
(1) Mini USB cable
(1) Return plug
(1) Gasket kit
Notes:
Not legal for use on pollution controlled vehicles or in states adopting California emission regulations. This system is designed to be installed on vehicles that do not require emission controls.
CA Prop 65 Warning - cancer and reproductive harm www.p65warnings.ca.gov