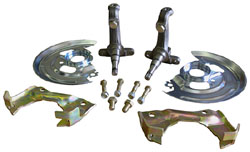 1964-72 Chevy Chevelle Disc Brake Spindle Kit, OEM type GM car
OEM disc brake spindle kit with caliper brackets and dust shields available for 1964-72 Chevy Chevelle, Pontiac GTO, Buick Skylark, Olds Cutlass and GM A-body cars.
For original style disc brakes or can be used with Wilwood upgrades.
Market price:
$159.99
save 20%
1964-72 GM A-Body, Chevy, Buick, Oldsmobile, Pontiac Disc Brake Spindle Set
Available for 1964-66 & 1967-72 Chevy Chevelle, El Camino, Pontiac GTO, Buick Skylark, Oldsmobile Cutlass, 442, Malibu car.