1967-69 Chevy Camaro Power Brake Booster Kit
Power brake booster fits 1967-69 Chevy Camaro and Pontiac Firebird. Add power brakes to your Classic muscle car without major modifications
Available for drum and disc brake applications.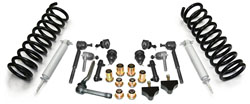 1968-70 Chevy Chevelle Front Suspension Rebuild Kit, Super Deluxe PolyUrethane
Front suspension rebuild kit available for 1968-70 Chevy Chevelle, El Camino, GM A-body, Monte Carlo, Pontiac GTO, Le mans, Buick Skylark, Oldsmobile 442, Cutlass, Malibu car. This is our Super Deluxe Kit!
Includes Shocks and springs!