Accel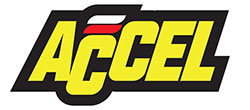 Accel 8145C Super Stock Breakerless Electronic Ignition Coil, Chrome
Details
Excellent high performance coil for vehicles that have been converted from points to a breakerless electronic distributor or electronic ignition system, where a canister type oil filled can coil is preferred. High performance tan Alkyd tower provides "flashover" protection to primary terminals. Improves starting, idle, throttle response and top RPM power.
Kit includes:
Notes:
45000 volts
Effective up to 6500 RPM
1.4 ohms on the primary
This part is legal for sale and use on Uncontrolled (Non-Emissions Controlled) Vehicles and Racing Use Only Vehicles.
CA Prop 65 Warning - cancer and reproductive harm www.p65warnings.ca.gov