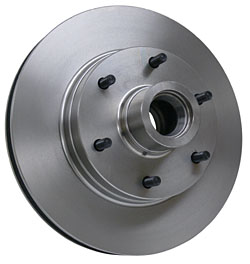 Another great item found on our conversion kits. These 6-lug disc brake rotors fit 1960-70 Chevy and GMC truck using 1971-87 GM C10 HD spindles (1.25" Thick Rotor) and are available in the very popular 6 x 5.5" bolt patterns. They also fit 1960-70 Chevy-GMC C10 trucks running aftermarket drop spindles.

Specification info:
12.00" Diameter
Utilizes GM 4035 - 4036 calipers or equivalent
Outer Bearing #M12649
Inner Bearing #LM48548
Seal #8871
Wheel stud size 7/16-20
Available upgrades:
Drilled and Slotted option includes free zinc plating.
Fits:
1960 1961 1962 1963 1964 1965 1966 1967 1968 1969 1970 Chevy C10 and GMC C15 truck, Suburban and 2wd Blazer using late model spindles