FiTech EFI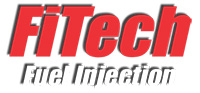 FiTech 30064 Go EFI Dual Quad 1200HP Fuel Injection System
Details
This Kit is for the those who have a 671 or 871 roots style supercharger or make up to 1200hp naturally aspirated on their dual quad setup. Works out of the box on your 2×4 blower plate as an inline setup or can be side mounted using custom linkages. Also, this kit is a bolt on for the most popular normally aspirated dual quad and tunnel ram manifolds including the Edelbrock line of dual quad manifolds without any adapters! One throttle body handles all of the brains while the second holds 4 additional injectors plus the IAC motor for idle stability.
Kit includes:
(2) Die-cast throttle body.
(1) Hand-held controller.
(1) Hand-held controller cable.
(1) Windshield mount.
(1) 4+2-Pin Connector.
(1) O2 sensor.
(1) O2 bung kit.
(1) CTS sensor.
(1) CTS adapter.
(1) Mini USB cable.
(2) Return plug.
(1) Gasket kit.
Notes:
Not legal for use on pollution controlled vehicles or in states adopting California emission regulations. This system is designed to be installed on vehicles that do not require emission controls.
CA Prop 65 Warning - cancer and reproductive harm www.p65warnings.ca.gov
What does this fit?
Chevrolet, Pontiac, Ford, Chrysler, Dodge, Plymouth, Etc. engines making 250 HP up to 1200 HP with a dual quad intake manifold.