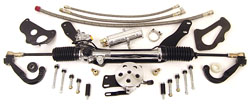 These kits are a massive upgrade over the stock steering, improving road feel, and handling. Kits are in only power rack steering and are a breeze to install. Each kit includes everything needed for installation. Works with small block Ford motors unless you have something different, it can be purchased as Rack-n-Brackets only.

Kit includes:
• Rack and Pinion, Mounting Brackets and Outer tie rod ends
• U-joints and Steering shaft for use with factory column (Complete kit only)
• All Mounting Fittings, Hoses and Hardware (Complete kit only)
• Power Steering pump assembly (Complete kit only)
• Limited lifetime warranty
• Power rack shown, includes mounting bracket, complete pump kit with lines.

Please specify the following:
• Column Type
• Transmission Type
• Engine Type
• Size Headers?
• Finish Type (black or upgrade to Chrome for $100)
Note: Kit is complete and ready to install.

Will vary in appearance to image shown (62-67 Nova shown).