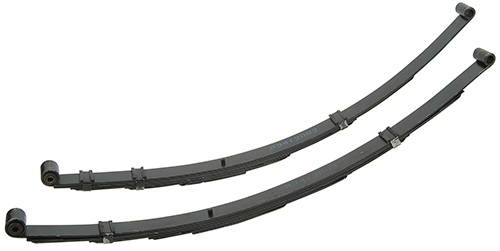 Our 1963-74 Mopar A, B and E body Super Stock leaf springs are complete with rubber bushings in the front eyes. The Super Stock leaf springs contain 1 extra leaf on the passenger side to minimize chassis twist under hard acceleration. Rubber front bushings are standard. Super Stock leaf springs made to work in conjuction with our traction bars. Factory Mopar Performance Spring RateRide height options are stock and 2" lowered. Included are heavy duty alignment spring pins & clamps.

Kit includes:
• Leaf Springs
• New front eye bushings
• All Hardware
• Limited Lifetime Warranty
Notes:
U-Bolts sold separately
Due to the nature of these springs, may require center bolt modifications & grinding to fit.
Fits:
1963, 64, 65, 66, 67, 68, 69, 70, 71, 72, 73, 74 Dodge, Plymouth and Chrysler cars. Dart, Demon, Valiant, Barracuda, Duster, Scamp, Challenger, Barracuda, Polara, Coronet, Charger, Belvedere, Satellite, GTX, Road Runner and Sport Fury.