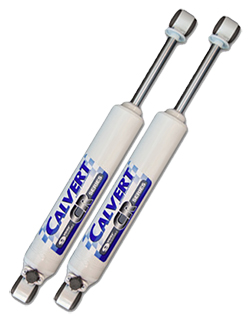 1963-74 MOPAR A, B, E Body, Rear 9-Way Adjustable Drag Shocks, (PR)
Calvert Racing 9-Way Adjustable Rear Drag Shock Available for 1963-74 Mopar A-body, Dodge Dart, Dodge Demon, Pymouth Valiant, Barracuda, Duster, Scamp. Dodge Challenger, Plymouth Barracuda. Dodge Polara, Coronet, Charger, Plymouth Belvedere, Satellite, GTX, Road Runner, Sport Fury.
1963-88 Chevrolet, Pontiac, Buick and Oldsmobile Rear 90/10 Drag Shocks
Calvert Racing 90/10 Front Drag Shock Available for 1963-88 Buick Apollo, Regal, Grand National, Skylark, Chevrolet Camaro, Chevelle, Corvette, Malibu, Nova, El Camino, Oldsmobile Cutlass, 442, Omega and Pontiac Firebird, Grand Prix, GTO, LeMans and Ventura.
1955-57 Chevy Belair CalTracs Traction Bar Kit
Tremendous benefits are realized when our traction bar kit is installed on a leaf spring vehicle. These traction bars were developed to improve high power traction while staying within hard set NHRA parameters. Available for 1955-57 Chevy Belair, 210 and 150.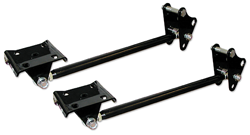 1962-66 PLYMOUTH A-BODY, CAL-TRAC, TRACTION BAR SYSTEM, SET
Tremendous benefits can be realized when our traction bar system is installed on a leaf spring suspended automobile. Our traction bars were developed to achieve specific goals to improve high power traction while staying within hard set NHRA parameters. Available for 1962-66 Plymouth A-Body. Savoy, Scamp, Valiant