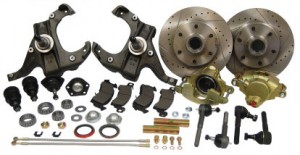 Performance Online is definitely tearing it up in the area of brakes and suspension.  These serious performing kits are available for 1960-70 Chevy – GMC C-10 and C-15 trucks.  The deluxe version for the (POL) drop spindle disc brake wheel kit is shown above.  This is exclusively available for the 1963-70 model GM truck, while the 60-62 GM model trucks utilize a direct fit spindle not utilizing the ball joints, tie rod ends and adjusting sleeves shown above.  "This is a very good selling item for us" says CEO Jim Chadick.  "Considering that the rotor diameter is already at the 12-inch benchmark and the system utilizes large GM D-52 calipers.  Our reports show this kit as the most performance for your dollar."  There are many options to the brake and suspension package shown.  Options include: drilled & slotted brake rotors, stainless steel braided brake hoses and even Wilwood multiple piston calipers can be added as an upgrade option.  Standard features are stock height or 2.5″ drop Western Chassis spindles, high quality 5 or 6 lug HD rotors and high performance tie rod adjusting sleeves.
Original Drum Brake Assembly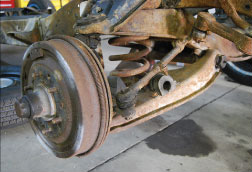 Here's a picture of the original drum brake assembly.  Note how much of the front steering system will be replaced.  POL's deluxe package utilizes ball joints and tie rod ends from the 73-87 trucks.  Not only will this make future replacements easier, but the suspension geometry is actually improved because of the slight dimensional changes made, improving the suspension camber curve.
High Quality Western Chassis Spindles
The heart and sole of this suspension and braking package is the Western Chassis spindle.  Western Chassis' design is configured around obtaining the most structural integrity while keeping weight down.  The modular spindles that are on the market are not only bulky and ugly, they weight too much decreasing suspension performance.  All spindles are test fitted to the brakes and shipped pre-assembled to insure a trouble free installation.
Power Brake Kit Upgrade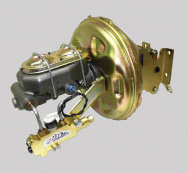 With the installation of disc brakes to any classic vehicle, it is highly recommended that you upgrade to one of POL's power brake kits if possible.  Shown above is POL's 1967-72 GM truck booster kit.  One notable improvement exclusive to POL is the mounting bracket design.  made of .188-inch 1018 steel, it is a tremendous improvement over the .125-inch Chinese brackets found on the competitors kits.
High Quality Replacement Splash Shields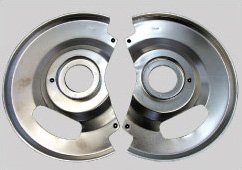 Another great upgrade to your brake system are POL's high quality replacement splash shields.  These components meet or exceed the GM specifications and include a really nice finish at an economical price.  These splash shields are also sold separately
Western Chassis Stock & Drop Spindles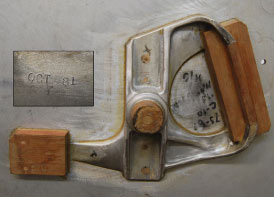 Here is a bit of truckin' history! Western Chassis has just located these original design plates from the former owner of Western Chassis.  A far cry from how the manufacturing process is done today, but the design is still very close to the spindles Western provides today.  Notice the date stamp, October 1981. All spindles meet the ASTM standards for ductile iron castings.