FiTech EFI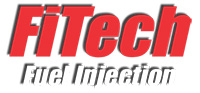 FiTech 30008 - Mean Street 800HP EFI Fuel Injection System
Details
MeanStreet EFI is the most self contained, cost effective unit on the market. It fits any 4-bbl intake manifold and is the most self-contained and full-featured unit of this type. The ECU (computer) is mounted on the throttle body, which greatly simplifies installation. No hole in your firewall and no unsightly harness draped across your engine. It also has a built-in fuel pressure regulator. A hand-held controller features a touch screen for quick and easy initial set-up.
Note: Not designed to work with the boost of a Blower or Turbo. For Blower and Turbo applications, please use Part # 30012
Kit includes:
(1) Die-cast throttle body.
(1) O2 bung kit.
(1) Hand-held controller.
(1) CTS sensor.
(1) Hand-held controller cable.
(1) CTS adapter.
(1) Windshield mount.
(1) Mini USB cable.
(1) 4+2-Pin Connector.
(1) Return plug.
(1) O2 sensor.
(1) Gasket kit.
Notes:
E85 Fuel compatible simply by decreasing HP settings during tuning set up.
Requires the use of Electronic Ignition. Will not work with a points distributor.
Not legal for use on pollution controlled vehicles or in states adopting California emission regulations. This system is designed to be installed on vehicles that do not require emission controls.
CA Prop 65 Warning - cancer and reproductive harm www.p65warnings.ca.gov