FiTech EFI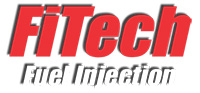 FiTech 30020 - Go EFI Classic 650HP Fuel Injection System
Details
Fitech's Go EFI Classic in the classic carburetor gold finish reverts back to the old school classic look while maintaining its innovative fue injection design. This fuel injection system delivers the classic carburetor look while eliminating cold start issues, hesitation, vapor lock and flooding. This classic design hides the injectors and has an externally mounted ECU so it can be mounted wherever you want to ensure a true carburetor look is maintained. The Go EFI Classic is a self-tuning fuel injection system rated for up to 650hp. The more you drive the more it adapts to your personal style.
Kit includes:
High-flow aluminum throttle body with four 45mm diameter throttle bores
(4) Injectors support up to 650hp.
Genuine Bosch LSU 4.2 Wideband Oxygen Sensor
clamp-on oxygen sensor kit ensures a leak free oxygen sensor
Notes:
Not legal for use on pollution controlled vehicles or in states adopting California emission regulations. This system is designed to be installed on vehicles that do not require emission controls.
CA Prop 65 Warning - cancer and reproductive harm www.p65warnings.ca.gov