FiTech EFI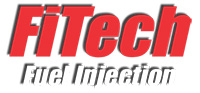 FiTech 37001 - Retro LS 650HP Fuel Injection System
Details
FiTech's Retro LS EFI 650hp fuel injection systems offers "golden" Carduretor looks and the performance electronic fuel injection. This system is ready to go with the needed wiring harness and sensors to get you on the road easily and faster than any system on the market today. Our system is easy to install, no computer experience required, a tight fit regulator and a hand-held tuner is included.
Kit includes:
Classic gold finish for that Carburetor look with the drivability of EFI.
Innovative Annular discharge design.
Flow matched 80 lbs injectors.
Semi sequential fuel and full spark control.
Fits V8 engines from 250-650 horsepower.
Bosch wide band controlled.
Trouble-free performance with today's fuels – put an end to vapor lock and fuel varnish problems!
24x and 58x crank and cam compatible.
4150 style 4BBL mounting flange – Bolts on in place of carburetor.
1 BAR MAP sensor, TPS, and IAC sensor integrated onto the throttle body.
Fully self-tuning ECU – No laptop required.
Custom cam friendly.
Includes full color, touch screen LCD for both basic and advanced tuning options.
Knock sensor control.
Transmission control suitable for 4L60, 4L65, 4L80 GM transmissions.
Tight-fit regulator #44120 included.
Connections for Ford, GM TH350, 700R4 and other transmission linkages.
Easy plug and play harnesses with minimal connections.
Virtually maintenance free – keeps your vehicle reliable and ready to drive.
Notes:
Requires 58 pounds of continuous fuel pressure with a return line to the fuel tank.
Requires Carburetor style intake manifold.
Not legal for use on pollution controlled vehicles or in states adopting California emission regulations. This system is designed to be installed on vehicles that do not require emission controls.
CA Prop 65 Warning - cancer and reproductive harm www.p65warnings.ca.gov