FiTech EFI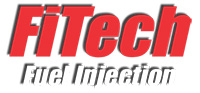 FiTech 50005 Force Fuel System - Dual 340 LPH Pumps
Details
The new FiTech Dual Pump Force Fuel System makes the upgrade to EFI easy while supporting serious horsepower – up to 1,600 horsepower! The system works in concert with a mechanical or electric fuel pump to supply the Force Fuel reservoir with fuel where it is then fed through two internal 340-LPH pumps to feed the EFI system. Dual internal regulators keep the pressure at a consistent 58-psi which is ideal for reliable EFI performance. With a strong, versatile mounting bracket, the Force Fuel System easily mounts under the hood. The assembly holds half-a-gallon of fuel to submerge the efficient pumps with no chance of fuel starvation.
Kit includes:
Main assembly w/(2) 340 LPH fuel pumps
Notes:
Compatible with E-85, alcohol or methanol based fuels
Not legal for use on pollution controlled vehicles or in states adopting California emission regulations. This system is designed to be installed on vehicles that do not require emission controls.
CA Prop 65 Warning - cancer and reproductive harm www.p65warnings.ca.gov