FiTech EFI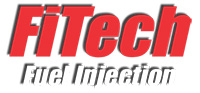 FiTech Ultimate Tall LS1, LS2, LS6 EFI Induction Kit
Details
The Ultimate Tall LS1, LS2, LS6 500HP Intake Manifold Kit with 92mm Throttle Body is a complete self-tuning induction systems for LS engines and designed for the do-it-yourself hot rodder to the professional builder. This EFI system includes everything needed to complete the induction system on your LS engine and get you on the road. These kits are E85 Fuel compatible with slight modifications during set up.
Application
Intake manifold will fit Cathedral Port LS1/LS2/LS6 heads.
Small Block V8 GEN. III/IV LS-based Chevrolet street and performance engines 750 HP to the flywheel.

4.8 L / 293 c.i. LR4, LS1, LS2, LS6
5.3 L / 325 c.i. L33, L59, LM4, LM7
5.7 L / 346 c.i. LS1, LS6
6.0 L / 364 c.i. LQ4, LQ9, LS2

Intake manifold is 9" inches tall.
500hp kit includes 92mm high flow cable operated throttle body
750hp kit includes 102mm high flow cable operated throttle body
Throttle body will clear any stock truck accessories depending on the type of water pump, if there is truck water pump accessory clearance interference you will need to get a new water pump bracket.
Kit includes:
92mm or 102mm billet aluminum throttle body.
Hand-held controller with color touch screen and cable.
Windshield mount for touch screen controller.
LS ECU.
36 lb/hr flow-matched injectors.
High volume fuel rails. Fuel rail contents:
Mounting Brackets
-6 AN fittings.
Rails.
Screws to mount brackets.
AN fittings and fuel crossover.
Fabricated 3mm thick aluminum sheet metal TIG welded intake manifold and bolts.
Plug and play primary wiring harness.
Throttle Position Sensor.
Idle Air Control Motor.
Idle Air Temperature Sensor.
Wide band O2 Sensor.
Stainless Oxygen Sensor bung kit (Clamp or weld on).
Notes:
Not legal for use on pollution controlled vehicles or in states adopting California emission regulations. This system is designed to be installed on vehicles that do not require emission controls.
CA Prop 65 Warning - cancer and reproductive harm www.p65warnings.ca.gov