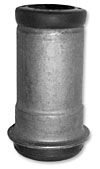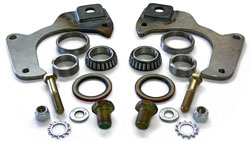 1963-72 Chevy C10 Truck Frame C Notch Kit, Heavy Duty Bolt in Type
NEW HEAVY DUTY C Notch kit. Recommended when lowering the rear of your 1963-72 Chevy C10 truck more than 4" or plan on towing with your lowered classic truck. Far superior to the bulky 3/8" thick units found on the market. Unique design allows for perfect positioning every time.
1963-72 Chevy C10 Truck Tubular Upper Control Arms Set
New Improved Design! Available for 1963-72 Chevrolet and GMC trucks. These tubular upper control arms have been completely redesigned for better performance as well as apperance. Great for lowered truck applications. GREAT FOR AIR RIDE SUSPENSIONS!!