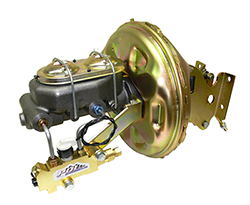 1967-72 Chevy Truck Power Brake Booster Kit
Add power brakes to your truck without major modifications! Available for both drum and disc brake applications. Available for 1967-72 Chevrolet and GMC C10 and C20 pickup trucks.
1963-72 Chevy Truck Aluminum Fuel Gas Tank Combo Kit, 19 Gallon
Aluminum fuel gas tank locates behind the rear axle and offers increased fuel capacity and safety. Fits 63-72 Chevy, GMC C10, C15 and C20 trucks. Includes sending unit, stainless fuel filler, hose and clamps.
Available in bed or side fill. E.F.I. pump kit available.
Proportioning and Combination Valve, AC Delco Type
GM style proportioning valve manufactured to precise specifications! Individual proportioning valves for your custom application. Works on GM, Ford and MOPAR. Replaces the AC Delco 172-1353 and 172-1361.
Ships anywhere in the USA for $10.00