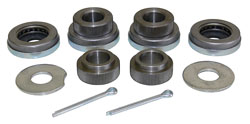 1955-59 Chevy Truck Rear End Conversion and Axle Flip Kit
Swap the rear end in your Classic truck with our rear end conversion kit.This kit allows you to run a late model rear end in your 1955-59 Chevy and GMC 3100 truck.
Can be used as an axle flip kit to lower your truck approximately 5".
1960-87 Chevy Truck Fuel Gas Tank Installation Kit
Gas tank installation kit fits 60-62, 63-72, 73-87 Chevy, GMC truck. Includes sending unit, fuel filler, hose and clamps. Kit is designed for our aftermarket aluminum and steel fuel tanks.
Available for stock and aftermarket gauges.