Part #WBKS6568
Read these instructions completely before installing this kit!!!
Before beginning installation, make sure your wheels fit on the disc rotor.
Make sure this kit fits your application before painting or plating. Parts that have been painted, plated or modified may not be returned.
1. Jack front of vehicle and support it properly with jack stands.
2. Remove the wheels, brake drums, hub assembly and backing plate assembly!
3. Clean and prep the spindle. See fig. #1.
4. Mount the caliper bracket onto the spindle using the supplied bolts and spacers in the kit. (Note the brackets should face the rear of the vehicle and the spacers go between the spindle & steering arm as shown in fig. #2 and #3. (58-64 vehicles require the use of additional supplied spacer between caliper bracket and spindle). See fig. #4.
Note: Will set wheels out 3/4" on each side.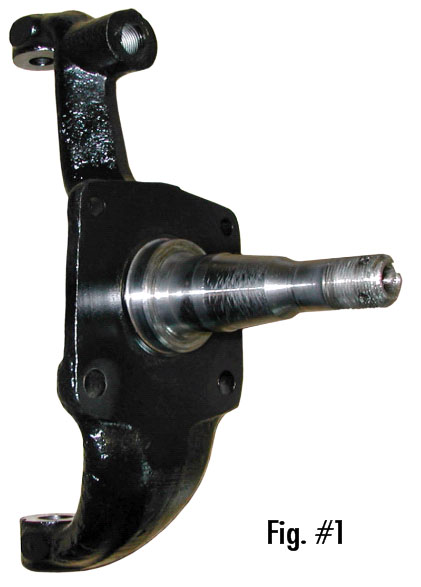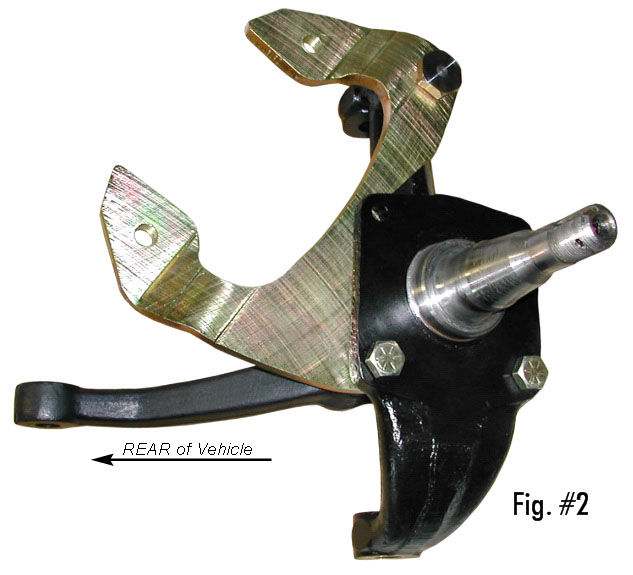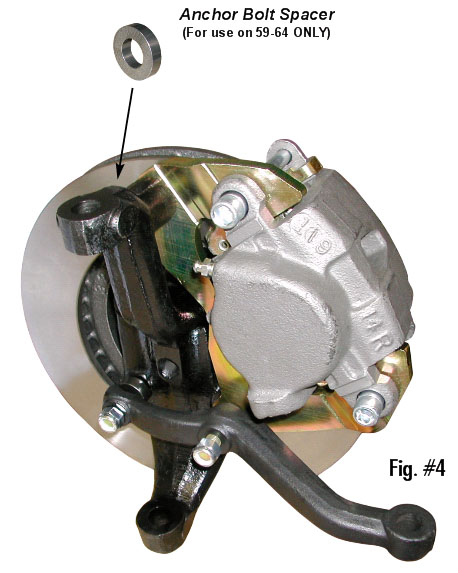 5. Pack the wheel bearings with good quality disc brake bearing grease and install the seals.
6. Install the rotor, outer bearing, retaining washer, and spindle nut. Torque the spindle nut to 12ft/lbs while spinning the rotor, then back the nut off to nearest slot and install cotter pin.
7. Install the grease caps, calipers and brake hoses. Make sure the bleeder screws are on top of the caliper.
7A. Due to the variations in brake pads, you may need to modify the wear sensor to clear the caliper mounting bracket.
8. You are done at the wheels. Enjoy!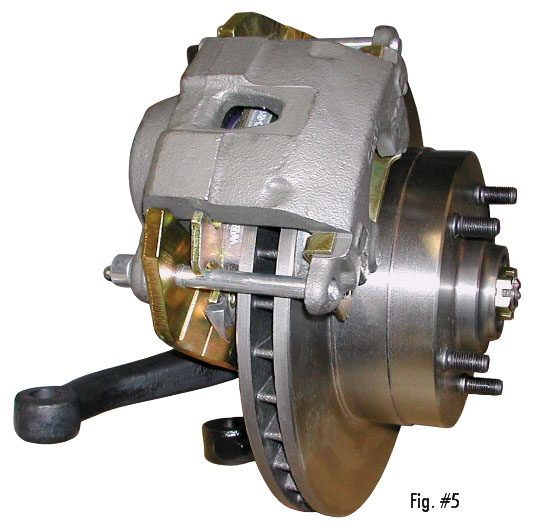 Warning!!!
Stock drum brake wheels may not work with disc brake conversions. Drum brake wheels were not made with disc brakes in mind, so there may be wheel to caliper clearance problems. Before installing this kit, make sure your wheels fit the brake assembly.
For those of you wanting to keep stock wheels that interfere with the installation, there are companies such as the ones listed below that can remove the original wheel centers and re-install them into a new disc brake rim. Please contact them directly for more information.
Wheelsmith (714) 556-3861
Wheel Vintiques (209) 251-6957
Stockton Wheel Service (209) 464-7771
SPECS
This kit uses:
1969-72 Chevelle or GM equivalent rotors.
1979-86 Malibu or GM equivalent calipers.
Inner bearing is an A-6 or set 6.
Outer bearing is an A-2 or set 2.
Grease seals are 7934S national.