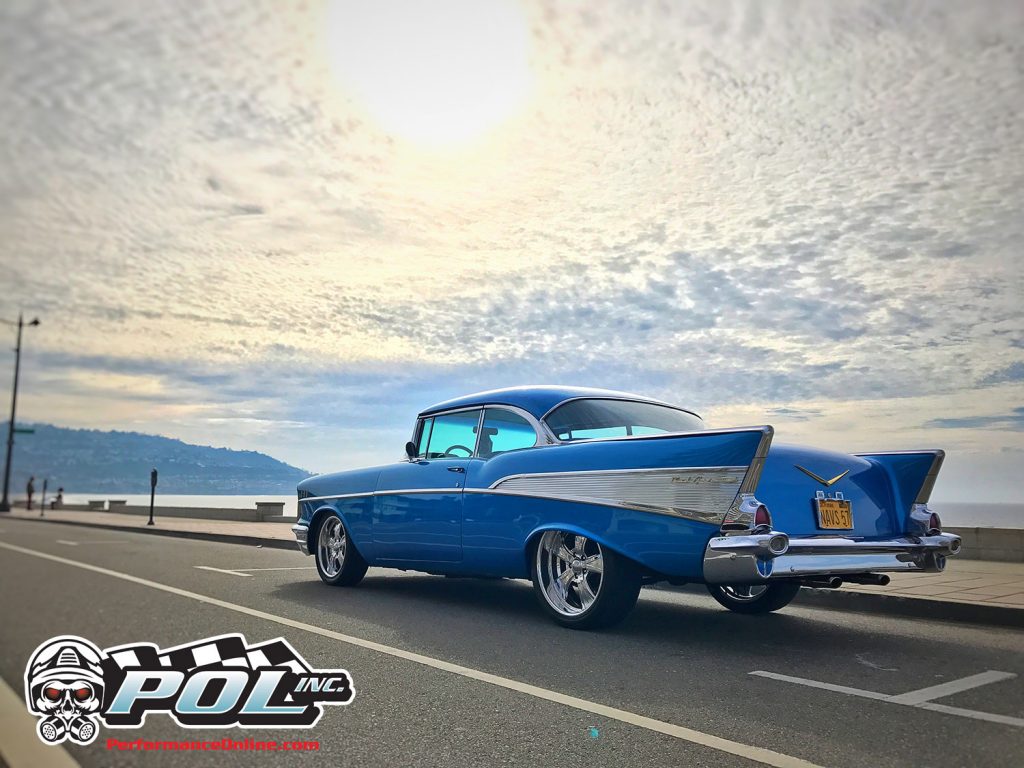 Last month POL held a photo contest for customers to submit their ride to be featured in upcoming magazine ads. These cars will be featured in our advertisements for major publications including Super Chevy Magazine, Chevy Hi-Performance Magazine, and more. Here we are sharing the first winner Tom Navlan of Redondo Beach, CA. Tom is the owner of an immaculate Chevy Belair. You can hear his story below and see all of the details of his ride at the end of this post. Please have a look and let us know what you think in the comments below. Don't forget to keep an eye out for Tom's car in upcoming classic car magazines!
"I grew up working on VW bugs. Owned several 1957 bugs from stock to big turbo racing motors. Then got burned out after racing them got to be too expensive. So I parked the last one in 2003. Haven't been back in the scene till 3 years ago.

Fast forward to 2016 with this beautiful Bel-Air started only as a dream of owning a Bel-Air one day; never thinking I would ever own one. It didn't start off as a car search either. I was saving up to buy a dump trailer for work. Which I later realized I didn't have anywhere to park it. So I just keep saving and looking around on Craigslist. I was actually still looking at trailers even though I didn't have a place to park one.

Then a random item popped into the search. It was a very clean, complete t- bucket. That got time to thinking about owning a cool classic car to drive around and work on. While still saving up what I could I starting expanding my search eventually landing on an ad for a 1957 Bel-Air that runs. My budget wasn't great, so a running bel-air was an amazing and surprising find. I couldn't help but imagine myself driving a Bel-Air around no less a 57 my favorite year.

So I called the guy up and he said it was still for sale and it was painted blue and he as lots of new parts for the car that just need to be put on. This was sounding too good to be true. We set up to see the car on the weekend, he sent me pics throughout the week. I was so excited, thinking of where I could cruise this thing and all.

Then wouldn't you know it he cancelled the day I was suppose to go look at it. Talk about being upset. He said it was too sentimental and he wasn't ready to sell it and it was too cheap. I said I just don't have any more money to offer. I threw out one last Hail Mary after several weeks and more texts that didn't go anywhere. I said let's revisit this till after the holidays and then you'll have more time to let go and I'll have more time to save more money. The 3 long months passed by and I reach out to him again and he said yes, I'm ready to sell. I was trying to keep my cool and not get to emotionally invested till I have the car in my possession, but man was I excited. So same thing he sent tons of pics of the parts and of the car.

I drove the longest two and a half hours to see the car and potentially take it home. I pulled up to this blue electric paint. I was so happy the car had some amazing paint with just some small chips and tiny scratches here and there. This car was a jem. It had some funky things to it and it was missing lots of trim and interior items but still had tons of great potential with some work that I could take care of. We went on a test drive and it was amazing. Car had some issues but it worked and it was painted nice. We made the deal and loaded up the endless boxes of used and new parts. Over the corse of the next few months I had all the trim on and squared away all the drivability and safety issues. All I did to the paint was clay bared it and added a coat of wax. I can't even begin to tell you how awesome it looked. I have done many more things big and small to the car but the bones are still the same as when I bought it.

I've driven this car to many car shows and cruise nights and the car is always a huge hit. I've put about five thousand mile on it in the first year. Drove it to the Big Bear in 100 degree heat, had some issues but I made it there and back in one piece. I've also driven to San Diego about four times. It's been a blast. The car even has its own Instagram page with many more followers than I have. Check it out @57belair57″

Owner – Tom Navlan, Redondo Beach, Ca
Vehicle: 1957 Chevy 2 Door Hard Top Bel-Air

Owner: Tom Navlan, Redondo Beach, Ca

Engine: 350SBC, A/C, power steering, Edelbrock carb and intake, MSD 6A and billet distributor, mid headers, dual flow masters

Trans: turbo 350
Interior: stock seats and door panels with blue color matched fabric. Vintage A/C, stock dash with a billet steering wheel
Exterior: custom candy blue paint, Intro brand billet wheels 18's in the front and 20's in the rear.
Suspension: Big brake kit up front and drum brakes for the time being in the rear. All stock trimmings on the outside. Car is lowered about 4 inches in the front and 2 in the rear. Tubular A-arms with adjustable coil over shocks and sway-bar. Rear is stock leaf springs
Share Your Project & Tell Us Your Story