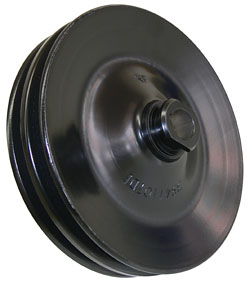 We stock factory GM pump pulleys. Our GM Power Steering Pump Pulley has 2 grooves and is the bolt on Saginaw type. This popular pulley is used in most power steering conversions using a Chevy engine.

This particular pulley works well for both 350 small block and big block applications due to the 2 groove design!
Works with long or short water pumps.

For use with bolt on power steering pump shafts. Works on many types of GM engines including Pontiac, Buick, Olds and Cadillac

Limited Lifetime Warranty.